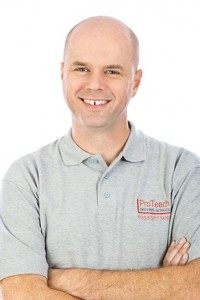 I'm Matt Lawler the owner of ProTeach Driving Instructor Training. ProTeach was started back in 2012 when I first moved back to the midlands. Since this ProTeach has expanded greatly in size and can now say we are one of the largest driving schools in the area. We currently teach over 300 local students every week.
The business has been built by supplying quality instruction to both our learner drivers and the general public who have trained with us to become ADI's, and now work at the driving school as instructors.
The Superior Training Package  

 
Our training package is constantly being tweaked and improved since the launched date and is designed to suit your requirements not ours. Our aim is to supply you a training package to fit your needs and around your daily commitments.
The training offered to you will be a personal 1 to 1 service throughout the duration of the course.  Your instructor will be with you every step of the way to support you from the initial assessment until the day you qualify as a driving instructor and behind to help further develop your new found skills.
Many of the training packages on the market including some of the national schools can often deliver their training two or even three to one. This will maximize the profits they can make but reduce the amount of valuable one to one training time you will receive. This is one of the many hidden costs of CHEAP training.
The ADI training Course we offer is normally part time and follow a highly successful training structure. There is plenty of flexibility built in so that training can be arranged around your current commitments, also this way you can work at a pace your feel comfortable with.
Our driving instructor training will be most effective when carried out at regular intervals. This will keep you in frequent contact with your personal trainer, also keep you constantly motivated and allows adequate time between training sessions for your home study.
On top of all the support and guidance you will receive from your dedicated instructor you will also have access to all of our qualified instructors and other trainee instructors. This can be a great source of help and guidance and encouragement.
As a ProTeach Instructor Trainee you will have the option to sit in on real lessons teaching real learners how to drive with one of our instructors.
From the first day you sign up with us you become part of our team.
We understand that weighing up which training provider to go with is a big decision, you are investing a lot of time as well as money in your future and we want to provide people looking in to this career with as much information as possible so that you can make an informed decision. So please ask as many questions as you like.
Training Overview
Part One
The Theory Test
Part Two
Test of Driving Ability
Part Three
Test of Instructional Ability
Theory Test and Hazard Perception
This will consist of home-study and in car training. For this you will receive a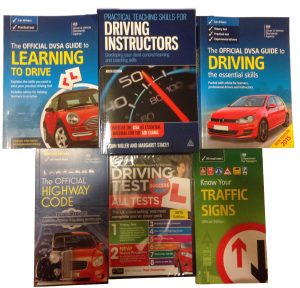 2 sessions with your dedicated instructor. This will be a total of 4 hours one to one training. Also included is all training materials need to pass the part one. This will include all 5 study books recommended by the DVSA. You will also receive the hazard perception and theory DVD and access to our online theory training site.
You will also receive support from your instructor and the ProTeach office to give you a very logical and structured approach to assist with your learning journey.
From the day you sign up with ProTeach you will have the contact number of your dedicated instructor so if you require any help or guidance your instructor is only a phone call away. You will also have contact with the office and other ProTeach Driving Instructors.
The training materials we supply will give you all the information you require, not just to pass the theory test 1st time but more importantly give you the sound knowledge required for the rest of the course. Like all the training you will receive from ProTeach, it's not just about passing the test. It's about ensuring you have the correct training and knowledge to become a top class driving instructor once you have qualified.
We have an average score of 96% for the part one theory test, this shows our system works well.
Unlike many of the training packages out there who will just leave you to pass the part one on your own, our package includes a training session with your instructor. This will give you time with your instructor to go over any concerns you may have. There will be a coaching session to fully explain the procedure and to ensure a 1st time pass for both the theory and the hazard perception.
The part one test is not difficult if you receive the correct training and fully understand what is needed.
What makes our training package even better. At this early stage of training you will receive a driving assessment. Your driving techniques will most likely need some tweaking as many of the trainees have not taken on any further training after passing the driving test.
During the driving assessment, we will look at any areas of your driving that may fall below the very high standard required. And then give you a few pointers and information on areas you will need to improve. This will prove to be invaluable at an early stage as you will be able to practice in your own vehicle in between sessions with your trainer. Full training for the part 2 will start after passing the part 1.
You will also be given the option to sit in on a driving lesson with real learner drivers. This will give you a better understanding of what will be needed to become a competent driving instructor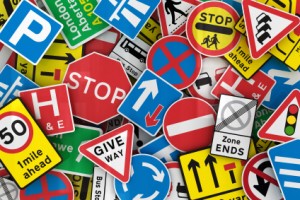 During the part one training many training providers leave you to get on with part 1 study on your own, with little or no contact with your trainer. (According to the DVSA the pass rate for the part 1 theory test during 2013 was just 43%.) Follow this advice at your peril, as you could become one of the 57% of people that fail this relatively simple test. Even if you do succeed at this level with gaps in your knowledge you will undoubtedly struggle with the more demanding tasks ahead.
Our package is not only designed to help you pass, it's designed to give you the knowledge and competence to become a top class driving instructor. As well as preparing you for your part one, our package gives you a head start for the part 2 and 3 training. A good theory knowledge really does help with part 2 and 3 training.
Part One Summary
Unlike many training providers who leave you alone to pass the part 1. With ProTeach you will receive 4 hour one to one training. You will get to meet your trainer and have their contact details.
You will receive all training materials required, 5 books recommended by the DVSA, training DVD and online theory training site access.
From day one you will be part of the team and have full support from our fully qualified ADI's. (a great source of help and support)
Full office support to answer any questions you may have.
1st attempt at the part one test is included. *(when course is paid for in full before commencing training)
The driving ability test.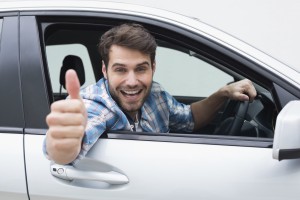 Already at this point you will have received your initial driving assessment while you were studying for the part one. The points raised and feedback given should have given you a good foundation ready to start the part 2 training.
On top of the driving assessment you have already received you will get a further 10 hours in car one to one training to prepare you for the part two test.
This test includes.
The emergency stop
Reversing your vehicle
The examiner will ask you to do 2 of the following exercises:
parallel park at the side of the road
reverse into a parking bay and drive out
drive into a parking bay and reverse out
pull up on the right-hand side of the road, reverse for around 2 car lengths, and rejoin the traffic
• Hill start up
• Hill start down
• Moving off (straight or at an angle)
Independent driving
You'll have to drive for about 20 minutes by following either:
directions from a sat nav
traffic signs
The examiner will tell you which you have to do.
Following directions from a sat nav
The examiner will provide the sat nav and set it up for you.
The examiner will assess your driving in a number of areas, including:
• Your expert handling of the controls
• Your use of correct road procedure
• Your ability to anticipate and act upon the actions of other road users
• Judgment of speed
• Judgment of distance
• Consideration for other road users
• Expert use of the DVSA mspsl hazard routine
You will have the option to carry out the training in one of our vehicles or you can use your own. Some trainees prefer to use there on car for the part two training as this is a vehicle they know and drive on a daily basis.
Our training vehicle will be available for you to use during the part 2 test if you require, also if you wish your trainer will accompany you one the day to insure that all runs smoothly and to clear up any last minute concerns you may have.
Be aware that very few training companies will give you the option to use a driving school car for the part two and just expect you to use your own car. It is crucial that you inform your insurance company as your policy may not cover you for the training and driving test. You may need to purchase additional cover.
Part Two Summery
Our training is set out not just to pass the part 2 but to give you the knowledge to become a top class driving instructor.

10 hours in car training one to one. 

Full support from all the team at ProTeach

Use of your instructor's car for both the training and test if required
Once you pass the part two test you will be in the top 1% of drivers in the U.K.
Instructional Ability Test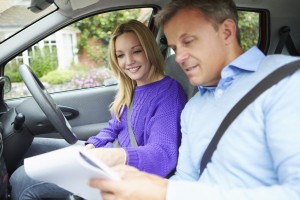 The Part 3 last for one hour. You can bring a pupil that is a learner driver or a full licence holder. They must not be an ADI or PDI
To pass, you will need to show the SE that you can identify any fault that you pupil may make. You then need to analyse the fault, and then rectify it by suggesting remedial action. You will need to show learning is taking place.
At this stage of the course without the correct preparation from the part one and two training you are going to be in for a sharp shock.
You will start to realise why we put so much emphasis on the part one and part two training at this point. During your driving instructor training for part 3 you will start to use the knowledge you have already gained in the previous sessions you have received from us to assist you at this stage of the course.
Just like learning to drive, defiantly the best way of gathering and developing instructor skills is by taking regular one to one sessions with your trainer at a time and pace that you feel comfortable with. This will allow for regular learning sessions backed up with periods of reflection to absorb the training and to carry out private practice.
Now you have started the part three training you will have the option to sit in on some driving lessons with real learner drivers. This can be very beneficial when training to become a driving instructor.
This is where our course stands out above our competitors. The course consists of a massive 50 hours of one to one tuition in a very structured manner. This is 25% more in car training then most training providers will give at this stage.
You will receive a part 3 visual aid folder to help with presenting lesson plans and a copy of the marking sheets the examiner will use for your part 3 test. You will also have access to our online resources
The training will contain the 40 hour syllabus that you will be following. It is laid out so you can see clearly what lessons will be covered and when they will be carried out. At no point throughout the training will you not know what your next training session will be covering.
Crucially on top of the 40 hours there will be an additional 10 hours to recap and go over any weak areas you may have.
Most training providers will only give you the basic 40 hours of training with no time to recap and go over any concerns you may have.
Part Three Summery
You will receive the part 3 visual aid folder

Access to online training videos

DVSA Marking sheets.

50 hours of one to one training. 
The key points
All training materials are included.
All training is one to one.
The use of a training vehicle is included.
4 hours training for part one.
10 hours training for part two.
A massive 50 hours of training for part 3.
1st attempt at each test will be paid for by us.

 *(when course is paid for in full before commencing training)


You will get to sit in on real lessons with real learner drivers.
When choosing your training provider there are many things you need to consider. Will your trainer be from the local area? Will your training be one to one? Will you be tied into a long term contract? You must remember CHEAP does not mean quality; you only get what you pay for. Will you get 64 hours of one to one training? Does the training provider have a genuine track record with genuine reviews about them? (anyone can make reviews up!) With ProTeach you can speak to current trainees and ADI's who have qualified with us.
With many of the large driving schools and training providers you will just be another name and source of income. With ProTeach Driving School we are local and we value our reputation. Unlike many providers our course comes with a money back guarantee. This means if for any reason you decide not to continue with the training you can request your money back less the value of training already taken at the standard rate.
Embarking on any new career requires a lot careful thought and hours of research.
We have tried to give as much information as we can on our website, but you may still have many questions to ask. Why not give us a call on 01283 440121 to discuss any questions you may wish to ask. Better still we would be delighted to meet you, so why not arrange a meeting with us? We can then show you first hand the training package and how we run our driving school. You will also get to see how you will fit in as part of our team.
When spending a large amount of money you should always do your research. So when contacting other training providers here are some of the questions you should consider asking.
How much training will I receive with the trainer?
Will it be one to one training?
What training materials will I receive?
Does the course fees, include test fees?
What training will I receive for part 1?
What training will I receive for part 2?
What training will I receive for part 3?
Does the training come with any money back guarantee?
Will I be tied into a long term contract?
How long do I have to complete the training?
Does the provider have a proven track record and genuine reviews?
Still unsure if this career or training package is for you? Why not arrange a meeting with us so we can answer any questions you may have. Call now on 01283 440121